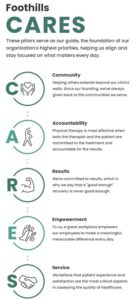 Foothills CARES – These pillars serve as our guide, the foundation of our organization's highest priorities, helping us align and stay focused on what matters every day.
Community – Helping others extends beyond our clinics' walls. Since our founding, we've always given back to the communities we serve. Our employees actively donate their time throughout the Valley, making a difference in the lives of many, participating in community fundraisers, charity events, and partnering with local and national non-profits to improve the lives of many. We pride ourselves in identifying, vetting, and selecting our non-profit partners that represent the passions of our community and deliver an impactful and sustainable program or project where Foothills has a strong presence.
Accountability –Physical therapy is most effective when both the therapist and the patient are committed to the treatment and accountable for the results. We promise to create an environment where patients and therapists alike take ownership and understand what it means to be responsible to ourselves and each other. It's all part of how our patients achieve the best possible results.
Results – We're committed to results, which is why we say that a "good enough" recovery is never good enough. We are built on our daily commitment to our patient's needs and the patient experience. When you enter our doors, you'll be welcomed and cared for like family. And you'll never have to worry about having to wait for an appointment. Our dozens of clinics mean that you'll have access to a local, trusted therapist who knows your situation and will help you achieve your best results.
Empowerment – To us, a great workplace empowers our employees to make a meaningful, measurable difference every day. We create great workplaces that positively impact our employees' lives, communities, and patients. No matter their background, ethnicity, education, or where they are on their journey, we are committed to our employee's individual growth and personal excellence.
Service – We believe that patient experience and satisfaction are the most critical aspects in assessing the quality of healthcare. Every member of our staff is focused on showing an abundant amount of care and exceptional interactions that go far beyond just a fair exchange. We have adopted a concierge approach in all of our clinics to meet our patient's needs. A great patient experience starts before your first initial visit and will continue through your full recovery.